WE MAKE THE
HEALTHIEST HOMES
ON THE PLANET.
Choose a small home design & find out how it will work at your site & location…we are committed to start you on a path of success!
THE HOMESTEAD UPGRADE:
Move-able walls, private common areas, kitchenette's & private guest entry for co-living…just to name a few!
'WHITE BOX' IT
We provide the entire structure, protected from the outside elements, including pre-installed exterior windows and doors, with rough mechanical installed…clients then manage all finishing touches with a qualified general contractor!
800-988 SF, 2 bed, 1 bath
1000-1250 SF, 2 bed, 2 bath
1500 - 2000 SF, 3 bed, 2 bath
Pre-Installed Triple Pane Windows & Doors
Wood Aluminum Clad, adjusted to climate for comfort & performance , made in the U.S.A.
Traditional Japanese Exterior Siding
Solar with Battery Storage
Passive House Certification
Starting at $260,000
This includes:
[SHS] Design
✓ Stamped & engineered for local building authority; currently available in Boulder, Jefferson & Mesa Counties
[SHS] Enclosure
✓ Phoenix Haus prefab enclosure, including windows & doors
[SHS] Construction
✓ Small Haus construction managed via a qualified general contractor; base level, builder-grade finishes
Available Integrations:
✓ Wood + aluminum clad window & door upgrade
✓ Shou Sugi Ban Exterior wood siding
✓ Renewable Energy System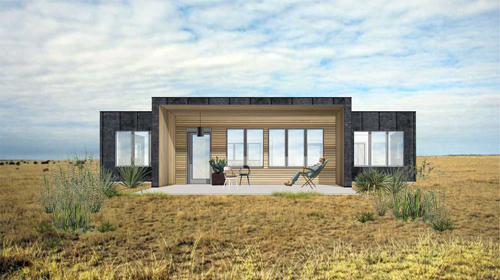 Starting at $305,0000
This includes:
[SHM] Design
✓ Stamped & engineered for local building authority; currently available in Boulder, Jefferson & Mesa Counties
[SHM] Enclosure
✓ Phoenix Haus prefab enclosure, including windows & doors
[SHM] Construction
✓ Small Haus construction managed via a qualified general contractor; base level, builder-grade finishes
Available Integrations:
✓ Wood + aluminum clad window & door upgrade
✓ Shou Sugi Ban Exterior wood siding
✓ Renewable Energy System
Starting at $354,000
This includes:
[SHL] Design
✓ Stamped & engineered for local building authority; currently available in Boulder, Jefferson & Mesa Counties
[SHL] Enclosure
✓ Phoenix Haus prefab enclosure, including windows & doors
[SHL] Construction
✓ Small Haus construction managed via a qualified general contractor; base level, builder-grade finishes
Available Integrations:
✓ Wood + aluminum clad window & door upgrade
✓ Shou Sugi Ban Exterior wood siding
✓ Renewable Energy System
PHOENIX HAUS MISSION STATEMENT:
A lifetime of healthiness achieved through housing